Speedcubing competitions
Speedcubing competitions are a great opportunity to put your skills to the test. You don't have to be a speed cube pro for this – you can take part in competitions even as a beginner*. And along the way, you will have a chance to meet other speed cube fans.
On this page, you will find links to summary pages of upcoming tournaments in Switzerland and Europe. We also compiled some important information about speedcubing competitions.
Speedcubing competitions in Switzerland
In Switzerland, a handful of different competitions for speedcubers are held every year. You can find a summary of the upcoming tournaments on the WCA website:
Speedcubing competitions in Europe
Speedcubing competitions are held regularly in other European countries. So why not combine a tournament with a city trip abroad? Here you can find a summary of upcoming competitions in Europe:
Information about speedcubing competitions
Below, we have put together some important information about competitions. It is primarily aimed at people who have not yet participated in a speedcubing tournament.
World Cube Association (WCA)
If you are interested in competitions for speed cubes and combination puzzles, sooner or later you will come across the World Cube Association (abbreviated WCA). The WCA is an international non-profit organisation that governs and conducts cube competitions. The association has set itself the goal of organising more competitions in more countries under fair conditions.
Events at WCA tournaments
The WCA refers to the various types of tournament contests as events. The following events are held at WCA competitions:
3x3x3 Cube
3x3x3 One-Handed
3x3x3 Blindfolded
3x3x3 Fewest Moves
3x3x3 Multi-Blind
2x2x2 Cube
4x4x4 Cube
4x4x4 Blindfolded
5x5x5 Cube
5x5x5 Blindfolded
6x6x6 Cube
7x7x7 Cube
Clock
Megaminx
Pyraminx
Skewb
Square-1
You can find more information on the individual events in our
speedcubing introduction
. Not all events are offered at every competition. At national, continental and global championships, on the other hand, all events are performed.
Participation in speedcubing competitions
In principle, anyone can take part in a speedcubing tournament. However, you must be able to solve a 3x3 cube in under 10 minutes as this is the maximum time allowed in competitions. We encourage you to participate if you can solve the 3x3 in about 60 seconds (or less). You can register for a tournament either directly on the WCA website or the website of the tournament organiser.

When you enter an official speedcubing competition for the first time, a WCA ID and profile will be created for you once the results of your first competition are published. All results of your future competitions will then be recorded under your WCA profile.

Speaking of your first competition: the rules and procedures for speedcubing tournaments can be a little intimidating at first. So it could be helpful if you learn about the events and rules before the competition. The WCA has summarised the most important information and published a handy PDF document in English. There, you will find essential facts about competition procedures and rules.

Go to WCA Competition Tutorial

In addition, we also recommend the video below. On his YouTube channel 'SpeedCubeReview', speedcuber Shawn tells and shows how a tournament plays out and what you should keep in mind.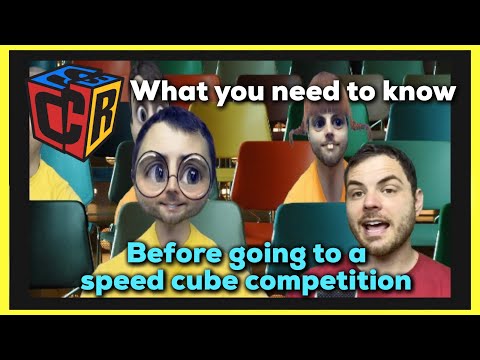 Current world records
Would you like to know about the current speedcubing world records? On the WCA website, you can find an
overview of world records
broken down by event. It will help you keep track of the latest world records. You can even filter the list to search for a specific country, allowing you to see who you are competing against in Switzerland or Germany, for example. Also quite fascinating: Clicking on 'History' will show you the progression of the fastest times over the years. Pretty crazy how those times have improved!